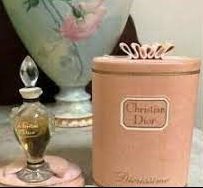 In the early 1960s when I was nursing in a hospital ward, I had a patient from the American embassy in a private room.  I do not remember her name, or why she was there, but when she was about to leave, she called me to her room and presented me with a small, beautifully wrapped box.  It was very uncomfortable for me to receive a present from a patient, and I told her so, but she insisted, and left it on the table with my name on it when she left.  I thought it was possibly some nice chocolate, and was awestruck to find a most elegant bottle of perfume, Diorissimo.  The most perfect fragrance filled the room when I opened the glass cap of the bottle.  I did not immediately recognize the smell, but it was like a freshly cut flower.  It was love at first smell.  Even though I used the perfume very sparingly, eventually it was gone, and the only thing left was an elegant bottle.
Back when my biophysicist husband was studying olfaction of mosquitoes in order to find out what chemical compound would repel them, another biophysicist, Luca Turin, was at that time working on a controversial theory of olfaction.  Unlike the theories that were accepted at the time, he based his hypothesis on biology rather than fragrance chemistry.  He proposed that "Odor character is determined by molecular vibrations, and odor intensity is determined almost entirely by molecular shape."  In spite of the fact that his theory was highly criticized and not accepted, Intel has created a computer chip that can smell without a nose.  This IEEE Spectrum article shows Nabil Imam holding a neuromorphic test chip that mimics what happens in your brain when you smell something.  "My friends at Cornell study the biological olfactory system in animals and measure the electrical activity in their brains as they smell odors,"  explains Imam, who has a doctorate in neuromorphic computing.  "On the basis of these circuit diagrams and electrical pulses, we derived a set of algorithms and configured them on neuromorphic silicon, specifically our Loihi test chip."  One possible application of this chip is sniffing out hazardous chemicals!  This builds indirectly on the work that Turin did.
Turin, however, took another path since he did not get tenure.  He returned to his first love, the perfume industry, which is much more lucrative than scientific investigation.  The Emperor of Scent, by Chandler Burr, tells the strange mystery story of Turin's obsession with scents.  Up to the 1960's most scents came from natural sources.  The cost of production was getting higher and higher because of labor costs.  And then "synthetic raw materials" started to flood the market.  Anyone who was familiar with chemistry could start welding together atoms to create "synthetic rose molecules," lemon, and other lovely scents.  There are some naturals that still come from Grasse, which used to be the "perfume capital of the world."  Grasse, between Nice and Cannes, used to be in the beginning of the 19th century a leather town, specializing mainly in gloves.  Gloves were scented, since "people believed disease was carried by bad odors."  Thyme and other herbs were used to ward off typhoid.  "Antoine Chiris […] set up a natural raw-smell-materials distillery [since] the climate's ideal for growing flowers[.  The distillery was used] to make scents to scent the gloves."  The method proved to be powerful, and more scents were produced there until it became the perfume capital, where most expensive perfume molecules originated.
Turin loved perfumes since childhood, and spent time in Grasse.  He became one of the world's best known perfume critics, and his book Perfumes-The Guide (with Tania Sanchez) is still the go-to book for the industry.  In it he relates the story of the creation of Diorissimo.  It was created by French master parfumier Edmond Roudnitska, and introduced in 1956.  It was an attempt to simulate lily of the valley.  The flower was designer Dior's favorite, decorating his stationary, his garden, and often his lapel, as well as serving as the inspiration for his 1954 spring collection, but the flower's scent is difficult to recreate in perfume since no essential oils can be obtained from the actual flowers.
Consequently, Diorissimo's lily scent largely uses lab-created molecules and is often considered the most successful effort in the history of perfumery.  Edmond planted lily of the valley in his garden.  Every day he came home and compared the vial with the artificial molecule to the smell of the fresh flowers in his garden. It took him more than a year until he was finally satisfied that he actually arrived at the exact, perfect lily-of-the-valley smell.  Just a side note that I read, Diorissimo also has notes of ylang-ylang, amaryllis, boronia, and jasmine, and was reportedly the favorite of Diana, Princess of Wales.
As for me, it is still the only one I use, though I can certainly not afford the perfume.  I buy the Eau de Toilet version when I can get it.  Most stores do not carry it anymore.  One of the only places I know of that still carries it is The Bay in Canada, and I stock up when I get there.  Over time, Diorissimo has been reformulated to comply with the regulations of International Fragrance Association (IFRA), in particular to remove two key components identified as potential allergens.  Nevertheless, in the 21st century, Diorissimo has continued to be named to lists of the greatest fragrances of all time.  Reading a review of the fragrance by Thomas Dunckley, (The Candy Perfume Boy), I was amused by the following description: "In the base, the fragrance feels softly animalic with a sour warmth that is carnal and sexy, evoking the idea of a demure house wife who rocks sexy underwear discreetly underneath her floral patterned dress. Diorissimo may be polite and pretty, but it also offers up a hint at its performance under the sheets and the signs point to something entirely sensual and unreserved."  I let you draw your own conclusions about the reasons I've continued using this fragrance for over 60 years!