After two years of cancelation, the fall fairs have returned.  The Western Fair was not canceled from the time of the Second World War until 2020!  And as you can see the tradition started in 1898.  Every city and town in Canada features what used to be an agricultural fair, and morphed into a week-long family-entertainment event.  One of the biggest in Ontario is the Canadian National Exhibition which opened this year on August 20th in Toronto.  From morning till late night, you can watch performances for children and adults such as ice skating and circus acts.  The more daring among you can enjoy rides which become more terrifying every year.
The competition for prize-winning farm animals and produce is still featured.  This was originally the main reason for holding the fair: to allow farmers and people in the community to show their prowess, their prized produce, and their pride in what they created.  Creative art of different forms is also exhibited, and of course, food.  A variety of innovative food items are offered from the multiple traditions of immigrants to this country.  But let us never forget the good old favorites – hot dogs and corn on the cob, even though some of the hot dogs offered these days are vegetarian.  A variety of pavilions with commercial objects for sale compete with ones displaying innovative technologies.  The latest in this year's Canadian National Ex is the Doorways to the Past project which is an interactive journey presenting the CNE of days past.
Four self-contained installations are situated throughout the CNE grounds, with two different experiences featured on either side. Doorway stories explore four themes: Agriculture & Industry, Music, Arts & Culture, Architecture, and Midway Mayhem.  If you want to immerse yourself in a visual and auditory experience, there is Therapy for the Soul – a truly live kaleidoscope-like mind-bending sensory show by Voitek Pendrak, an artist, photographer and cinematographer.  It is a combination of generative art projections, mixed with ambient audio artworks, including live performances by violinist Oleksandra Fedyshyn.
I really would like to go and experience again the thrill which I remember from the time so many years ago when I took my grandchildren to the EX, as it is fondly called.  They had to try all the rides, and even made me go on the big scary adventure of the roller-coaster.  I had to be helped to get into the seat and out of it, but I succeeded and survived.  That was 12 years ago – I was still a spring chicken of 68!  I am not sure I could do it now, and what's more, my grandchildren themselves are 12 years older, and no longer in Toronto.  Perhaps they will remember the joy and take their own children if and when they have any.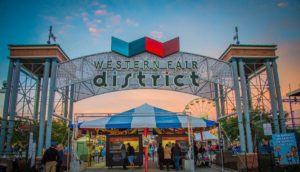 A bit smaller, but one that we used to take our children to, is the Western Fair in London, Ontario.  The rides were always a great attraction, and are bigger and better every year.  Since London is close to many farms, the barn animals and agricultural competitions are a big feature still today.
Our kids were always attracted to the area of the animals, and to the various activity pavilions.  Of interest is always the creative art competition, which gives regional artists an opportunity to showcase their talent, and to win prizes.  The categories include visual arts like photography, painting, sculpture, stained glass, and pottery as well as crafts like crocheting, knitting, and junk use.  There is also a competition in culinary arts and in horticulture.  Many years ago, when I was immersed in photography and printing in my own darkroom, I won a prize and honorary mention for my photographs.  This year, for some unknown reason, on a whim, I decided to enter the art competition again.  This time I am featuring my Functional Funk pottery.  I have entered my funky teapot.  It actually works.  It pours without losing a drop or dropping the lid.
Will I get a ribbon?  It remains to be seen whether the judges have a sense of humor. I will go to the fair, but none of my kids or grandchildren will be with me to experience the  atmosphere again. Perhaps I will be able to convince some likeminded goofy adult to come along with her inner child to keep mine company.