Together We Honour Our Grief
A unique bereavement retreat in the natural surroundings of Sally's Brook Wilderness Cabins June 27-29, 2023
Grieving the sudden loss of a child, no matter how old, is overwhelming.
Faced with sudden death, occurring by violence, accident, or suicide, there is always the lingering feeling of "if only…"
Grieving parents often tend to move away from each other precisely when they need each other's support.
Join a small group of parents who share similar experiences, in a peaceful natural environment. With guidance and the use of creative  outlets, support your healing and stimulate your growth- individually and as a couple.
I am offering a unique opportunity for 5 couples to experience an intensive 3-day bereavement retreat for grieving parents, in the healing natural environment of Sally's Brook Wilderness Cabins Cape Breton Island, Nova Scotia, Canada.
Tuesday, June 27, to Thursday, June 29, 2023
$1400 CAD + tax per couple
 Accommodation, meals and materials are included.
A deposit of $500 per couple will guarantee your space; payment in full is required no later than May 1. The first couple to register will be housed in Raven's Roost, the largest cabin.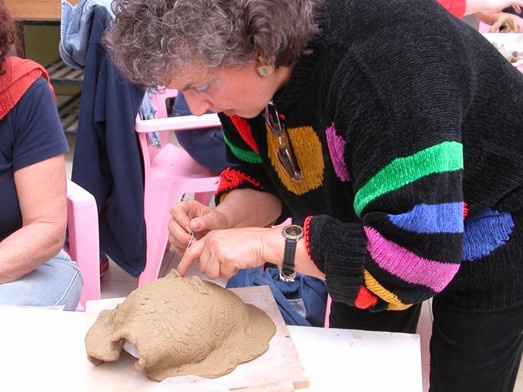 Why would you want to join me for this bereavement retreat?
My name is Hannah Sherebrin, I am an experienced Art Therapist working with
trauma and bereavement for the past 35 years both in Canada and in Israel. I
have led couples' grief work for parents who lost their children to war, terror
activities, suicide, and more. I see the growing amount of violence in our
society and am horrified by the suffering it causes. Research and my
experience have shown that bereavement groups are key to support and growth.
When words fail, the use of imagination, art materials, body awareness, and
movement as well as being in nature, help us open to each other and
communicate our unique needs.
I urge you to give yourself this gift of trust in your abilities and my guidance.
I hope to have the privilege of supporting you at this bereavement retreat.
You can book a free 20-minute online consult before committing by leaving your Email Sally's Brook Wilderness Cabins
Hannah Sherebrin, ATR-BC, OATR, YAHAT (Israeli Arts Therapies
Association) Senior Supervisor.  Learn more at Loremartis.com